Crowd Predictions Conference 2020
---
Date and time
Thursday 20. August 2020 at 08:15 to 13:00
Registration Deadline
Wednesday 19. August 2020 at 23:55
Location
Tivoli Hotel & Congress Center, Lumbye Auditorium, Arni Magnussons Gade 2,, 1577 København Tivoli Hotel & Congress Center, Lumbye Auditorium
Arni Magnussons Gade 2,
1577 København
Crowd Predictions Conference 2020
---
Event Description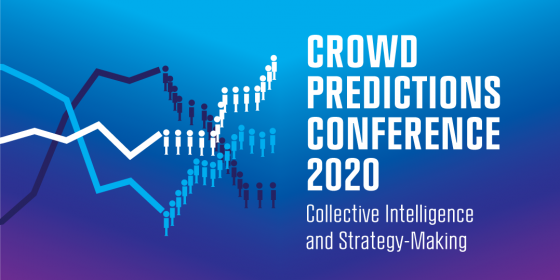 Crowd Predictions Conference 2020
is the third conference to take place in Copenhagen on collective intelligence and the predictive abilities of crowds. This year's theme will bring a focus on the adaptation and application of collective intelligence in a business strategy-making environment, and will feature, among a host of expert speakers, demos and networking with some of Scandinavia's leading innovators in collective intelligence software solutions. We are pleased to be able to host this year's event on August 20th in the Lumbye Auditorium at Tivoli Hotel & Congress Center, offering a limited number of seats based on health guidelines.
The conference is hosted by the
Collective Intelligence Unit
at CBS and supported by the
Danish Industry Foundation
.
AGENDA: 

08:15 Registration and light breakfast
08:45 Welcome by Paul Tyler, Moderator
09:00 How to Build in Explicit Prediction and Learning as a Route to Wisdom by Geoff Mulgan, Professor of Collective Intelligence, Public Policy and Social Innovation, University College London
09:25 The Company Brain In Practice by Pernille Simmelkiær, CEO of Openwork
09:50 Break (coffee and tea)
10:05 Crowd predictions From The Frontline by Collective Intelligence Unit
10:20 Presentation of Empirical Findings, Crowd Predictions From The Frontline by Carina Antonia Hallin, Head of Collective Intelligence Unit 
10:45 Reflections and insights by The LEGO Group
10:55 Reflections and insights by Radiometer 
11:05 Joint Q&A
11:20 Collective Intelligence Solutions - Speed-dating with Danish companies
12:05 Round up by Paul Tyler, Moderator
12:15 Lunch 
13:00 Thank you and have a great day!


We look forward to seeing you at the conference!
Organizer Contact Information
Collective Intelligence Unit, CBS
Phone: +45 31358180
bcp.egb@cbs.dk
Organizer Contact Information
Collective Intelligence Unit, CBS
Phone: +45 31358180
bcp.egb@cbs.dk